greening rockbridge county
You're Here:
Home /
Greening Rockbridge
I made a commitment...
When I started full circle I made the commitment to continue my everyday practices of recycling and composting, buying locally, and buying as many organically grown foods as possible. This is the way I was raised and the way I am raising my son, it is no bandwagon item for me and for full circle. However, once you get me started it can be a soap box speech.
Seriously, restaurants are one of the largest waste producing facilities in the business world. I recycle and compost both in the commercial kitchen and on-site. One of my true joys with this work is to leave site with 1 small bag of trash and the rest compostables or recycling. When we use disposables they are all made from biodegradable, compostable, and recyclable material. I offer these high quality goods free of charge to my clients to encourage them to use disposables that are better for the environment. (Of course we try and use renewable goods whenever possible.)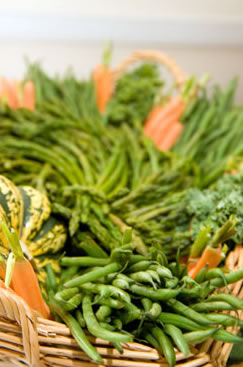 I offer an incentive to my clients—start a composting or recycling system at your home and I will give you a 20 percent discount off your event (a few restrictions do apply). Confused as to how to do this? I have 2 professionals on-call that are glad to come to your home and help you set up a system that works for you.
You will often see me shopping locally both at the grocery or at the Farmer's Market. I am the one toting 30 reusable shopping bags. Those reusable bags have completely eliminated plastic bags from my business. That, and the fact that I do not use a restaurant service food distributor for my food and goods, saves a remarkable amount of energy and waste. It also guarantees that the food I serve you is the freshest and healthiest I can possibly buy.
I am extremely proud to be a Certified Green Restaurant© by the Green Restaurant Association. In fact, full circle is 1 of only 4 caterers with this certification internationally. We are also certified as a green business by the Virginia Department of Environmentally Quality. In 2007 the Rockbridge area Conservation Council honored full circle with a sustainable business award. These certifications are a testament to the care we take when relating full circle catering to the rest of the world.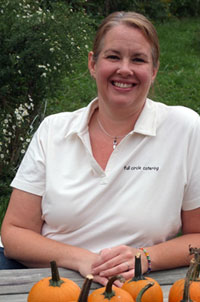 Just a few things we do—all paper supplies are made from unbleached post consumer fiber, no Styrofoam is used, all appliances are energy star rated, all bulbs are CFL, outdoor lighting is on timers, all plastic bags are made of compostable fiber.
I would love to talk with you more about my commitment to the environment—just give me a call—after all I have mentioned the beauty of Rockbridge County, I am working to keep it beautiful and clean.